Greek
The Greek Department is one of the core departments of our school and plays a vital role in the development of the students. The main lessons taught are Modern Greek, Classical Appreciation, History and Religious Instruction. During their lessons, students are exposed to several interactive activities which cater for the needs of all students. Learning takes part in a number of forms such as, independent research, group work, project-based learning, mini performances and lots of games such as Kahoot. Working in groups allows students to develop the necessary skills required to thrive both inside and outside of the classroom.
We take a lot of pride in the teaching and learning that takes part within the Department. We are a strong team with years of professional practice among us. Teachers work above and beyond in order to support all our students with differentiation being a number one priority. Extra curriculum activities are also at the centre of what we do. We are very passionate about offering a great deal of opportunities for our students. An example of this is theatrical performances our students are exposed to; a fun and engaging experience that heightens the knowledge of all our students. Furthermore, we have a great deal of students who have been involved in and won several internal and external competitions; some of these competitions involve worldwide and well-known ones. Finally, students participate in competition organised by the Ministry of Education where they have received numerous distinctions for their work.
We aim to aid our students in developing in all areas of learning with focus on promoting Greek culture.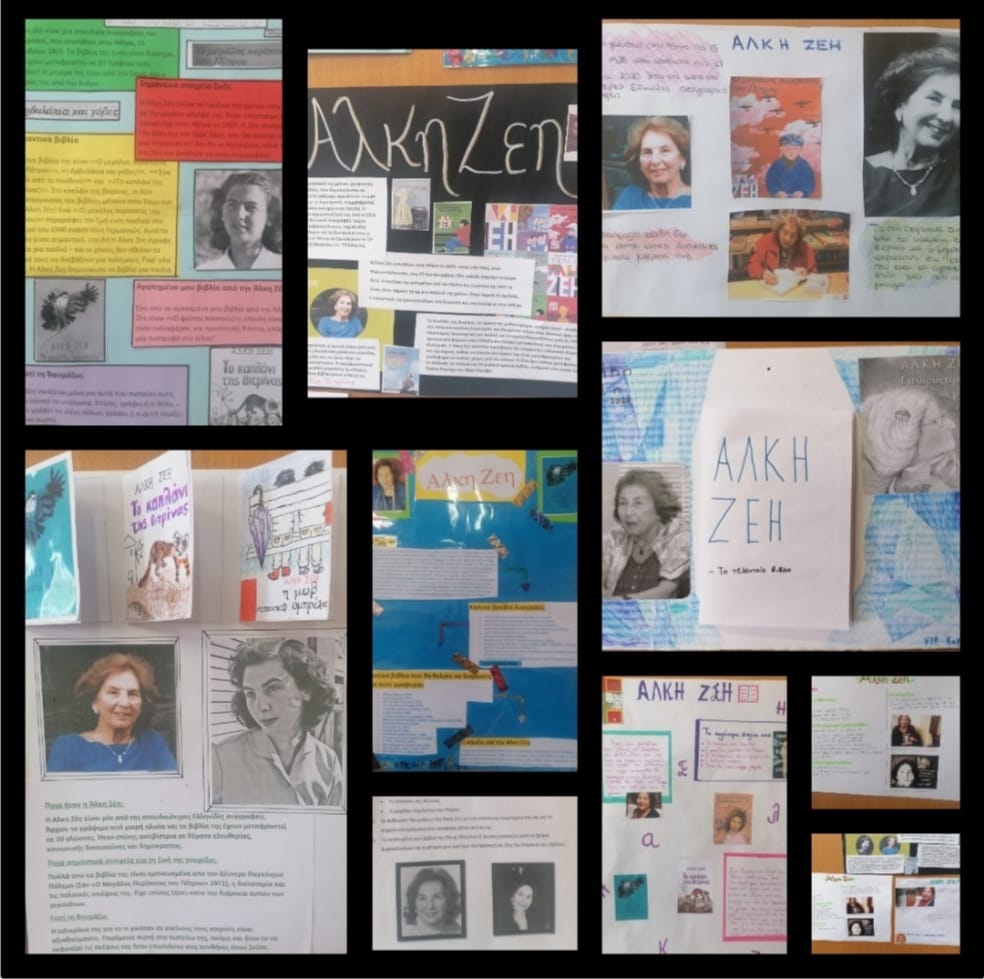 Year 7 display work on Alki Zei
KS3 (Years 7 to 9)
The Greek Department is in close contact with the Ministry of Education of Cyprus, following their guidelines, using their teaching material and delivering at Key Stage 3 (Years 7 – 9) to Main and Intermediate students, almost all philological subjects that students are taught at Public Schools of Cyprus/ Greece:
(a) Modern Greek Language
(b) Modern Greek Literature
(c) History of Greece and Cyprus
(d) Ancient Greek Texts from translation (Odyssey, Iliad, Drama)
KS4 (Years 10 and 11): GCSE and IGCSE
Main and Intermediate Level students must continue studying the Greek Language and prepare to take external Greek Examinations;
Main Greek students take the IGCSE (First Language) Examination
Intermediate students take the GCSE (Second Language) Examination.
The GFL students can choose to continue with Greek and prepare for the GCSE (Second Language) Examination.
IGCSE Greek (First Language)
EDEXCEL 4GK1
You will learn to
Understand the written forms of Modern Greek within defined contexts.

Communicate effectively in Modern Greek, through writing skills, using a range of vocabulary, structures and verb tenses.

Develop positive attitudes to language learning.
Gain an accurate understanding and appreciation of Modern Greek.

Build a suitable foundation for further study of Modern Greek.
What Sort of Homework Will I Be Set?
Reading comprehension, summary writing, writing essays, language tasks.
How Will My Work Be Assessed?
You will demonstrate your communication skills and understanding in your written work, oral participation, assessment tests, exam practice.
How is the Course Examined?
The Pearson Edexcel International GCSE in Greek (First Language) consists of two externally examined papers, one of 2 hours 15 minutes and the other of 1 hour 30 minutes.
GCSE Greek (Second Language)
EDEXCEL 1GK0
The aims and objectives of this qualification are to enable students to:
develop their ability to communicate confidently and coherently with native speakers in speech and writing, conveying what they want to say with increasing accuracy
express and develop thoughts and ideas spontaneously and fluently
listen to and understand clearly articulated, standard speech at near normal speed
deepen their knowledge about how language works and enrich their vocabulary in order for them to increase their independent use and understanding of extended language in a wide range of contexts
acquire new knowledge, skills and ways of thinking through the ability to understand and respond to a rich range of authentic spoken and written material, adapted and abridged, as appropriate, including literary texts
develop awareness and understanding of the culture and identity of the countries and communities where the language is spoken
be encouraged to make appropriate links to other areas of the curriculum to enable bilingual and deeper learning, where the language may become a medium for constructing and applying knowledge
develop language-learning skills both for immediate use and to prepare them for further language study and use in school, higher education or employment
develop language strategies, including repair strategies.
What Sort of Homework Will I Be Set?
Reading comprehension, writing tasks, language tasks.
How Will My Work Be Assessed?
You will demonstrate your communication skills and understanding in your written work, oral participation, assessment tests, exam practice.
How is the Course Examined?
The Pearson Edexcel Level 1/Level 2 GCSE (9–1) in Greek consists of four externally examined papers based on the following skills: listening (45 minutes), speaking (10 – 12 minutes plus 12 minutes preparation time), reading (1 hour and 5 minutes) and writing (1 hour and 25 minutes). Each paper is available at Foundation tier or Higher tier.
Sixth Form: International AS and A level
International A level: EDEXCEL XGK01/YGK01
At Key Stage 5 (Years 12 – 13), students have the option to continue with A Level Greek (2 year course) and the Certificate of very good knowledge of Greek Language from the Ministry of Education of Cyprus.
Curriculum Content
In respect of subject content, knowledge of language and language skills, students should:
explore and develop understanding of the contemporary society, cultural background and heritage of Greece,
read and respond to a variety of written texts from authentic sources,
demonstrate flexibility when communicating in writing,
use appropriate registers in written communication,
manipulate the language accurately to organise facts and ideas,
and to present explanations, opinions and information in writing,
understand and apply the grammatical system and a range of structures.
How will I be assessed?
At the end of Year 12, students sit one written paper of 2 hours 30 minutes for the IAS qualification. At the end of Year 13, students sit a further written paper of 3 hours to complete the IAL qualification.
What are the GCSE requirements for this course?
Grade 5/C or above in Greek.
Future Career Choices
This course prepares you for careers such as Translation, Local Government, Teaching, Diplomatic Core, Law, Psychology, and many more.
Sixth Form: Greek Language Government Examination combined with Army Officer Preparation
The Senior School Greek Department offers Sixth form students the opportunity to prepare for the Ministry of Education Examination for students of private schools, in order to be certified as having very good knowledge of the Greek language, and for the Army Officer Examinations.
Sixth form students are advised to acquire the certificate of very good knowledge of Greek if they wish to work in the public sector in Cyprus.
There are two exam sessions every year; in November and March/April. Students are prepared for the March / April exam session.
The Examination
There is a written and an oral part. Candidates who plan to work as teachers in the public sector need to take both parts of the exam.
How to apply
Candidates can apply via the School or the Ministry of Education of Cyprus Exam Service or the Ministry's website.