Year 3
In Year 3 we motivate each child to perform to the best of their ability in order to facilitate the best possible progress. Staff are aware of the needs of each child and give equal opportunities to all children to do well and strive for higher standards of attainment. We look forward to seeing your children grow, both in their learning and confidence so that they make progress towards becoming independent learners.
English
The following lessons are taught during the English lessons in Year 3:
Reading Skills – children look at both fiction and non-fiction texts which are studied in detail in class. They then have to answer a set of literal and inferential questions based on the texts.
Writing – The children will focus on different genre of writing such as writing stories with a familiar setting, non-fiction instruction writing, playscripts, rewriting traditional stories, letter writing, poetry and non -chronological reports. During the writing lessons, we focus on VCOP where we aim for the children to produce stories of a high standard.
Grammar – areas covered include nouns, commas, adjectives, adverbs, verbs (past and present tense, present perfect tense) and verb endings, apostrophes for contractions and possession, pronouns, speech marks, prepositions, root words and word families
Spellings - Children are given a spelling test every week and the spelling test books are sent home every 2 weeks for you to see and sign.
Handwriting – The children are introduced to cursive writing during weekly lessons.
Shared reading – In Year 3, we all study 2 set books as a class. Children take it in turns to read aloud from their own books and time is spend discussing new vocabulary and language used in order to further enrich the children's use of English.
Vocabulary – Based on the shared reading books, the children are given several words which they need to find the meaning of the word using a dictionary and they then write a high level VCOP sentence using their new word. The aim is to then use these new vocabulary words in their weekly writing tasks.
Library – The children visit our extensive library once a week and choose from a selection of thousands of books. They are encouraged to choose a Greek book alongside their English books which can be either fiction or non-fiction.
Maths
In Maths, we follow the White Rose Maths scheme as well as Big Maths for calculation strategies. In addition, mental arithmetic and problem-solving is also taught.
The areas covered in Year 3 include place value, addition and subtraction within 1,000 and beyond, multiplication, division, time, shape and space, measure and fractions.
In Year 3, the children build on their 2, 5 and 10 times tables and are taught their 3,4 and 8. We encourage regular revision of their timetables.
Greek
Greek is taught by specialist Greek teachers in Year 3.
The main purpose of teaching the Greek language lesson is for children to acquire the language skills required, so that they can communicate in all aspects of the language, written or oral speech on the basis of the communicative approach of language in order to accomplish the follow one:
the awareness and familiarisation of students with the language and its structure
the use of the language with the ultimate goal of effective communication (written and oral) based on a communication context
the reading and writing comprehension (coding and decoding texts)
the writing (production of written speech with / on authentic topics and in a variety of textual genres to familiarize children with authentic written communication situations)
the emergence, processing, comprehension, and use of grammatical elements through text processing
Topic
The Topic lessons are split into R.E (Religious Education), History, Geography and Science. Units covered are:
History – The Ancient Egyptians, The Ancient Romans
Geography – Active Planet (Volcanoes), Arctic Regions
Science - Forces and Magnets, Plants, Rocks and Soils, Healthy Living, Light
Topic is brought alive by carrying out Science experiments, visits to Curium for our Ancient Romans unit as well as Ancient Romans and Ancient Egyptians Days where fun cross curricular activities take place and we all dress up as either Romans or Egyptians.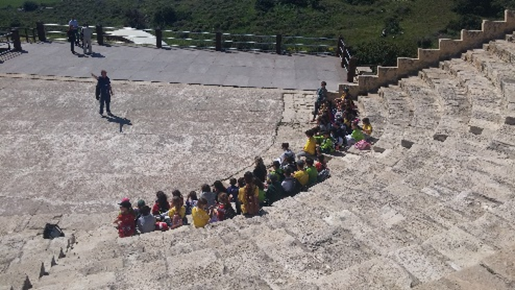 A school trip to The Curium in Episkopi, Limassol as part of our Ancient Romans History topic.
As part of Religious Education (R.E), each year group is given a different religion to study. In Year 3, we delve into Sikhism.
Art
During the Art lessons, we teach the children a variety of skills and different media is used such as paint, oil pastels, chalk, coloured pencils. The children are taught about famous artists and where possible, cross curricular links are made with the Topic units.
ICT (Information and Communication Technology
With the use of laptops, the children use Google Earth to explore a variety of places which link to our Topics. They also develop their Word processing skills and make power points presentations.
Coding is also taught in Year 3 using various internet programmes. We also spend time developing the children's touch typing skills.
PSHE (Personal, Social and Health Education)
Personal, Social and Health Education (PSHE) is now a statutory part of the curriculum which helps the children understand their social, moral, spiritual and cultural development as a facilitator to their cognitive development.
PE (Physical Education)
PE is taught by specialist PE teachers.
The Junior School PE curriculum is based on the British National Curriculum as well as Greek public-school guidelines. Students in Years 3- 6 have two PE lessons per week, one of which is taught in Greek.
Our high-quality PE education curriculum inspires all pupils to experience, enjoy and excel in a wide range of physical activities and competitive sports. We aim to provide opportunities for our students to become physically confident in a way which supports their health and fitness.
KS2 students learn and practice new skills across a range of activities that include games and athletics. All students have the opportunity to take part in afternoon activities as well as tournaments and competitions.
In addition, children are appointed a house team.
Music
Key Stage 2 music is taught twice weekly (one lesson is in Greek) in the KS2 Music Room or in the classroom. Students sing and play folk songs from the UK and Cyprus, as well as songs from countries around the world. Students deepen their understanding of the elements that make up music through the exploration and creation of sounds and pieces of their own. They also learn how to read and write music notation, to use music vocabulary and symbols, and to work together with their classmates.
Cross-curricular connections are made frequently with history, science, PSHE, literature and other topics studied in class.
In Years 3 through 6, students participate in:
Singing a wide variety of folk, classical, and modern songs with expressiveness and good technique
Performing in instrumental ensembles like drum circle, Orff mallet instrument orchestra, boomwhacker group, body percussion group and class rock band
Focused listening, appraisal and movement to music
Improvisation and Composition
Music Technology such as GarageBand and other DAWs
Reading and Writing music notation