Early Years Foundation Stage
We believe that children deserve the best start to their education. The Early Years team strives to create a safe, fun, joyful, memorable, and supportive environment for children. We are committed to providing quality Early Years education that is creative, challenging, active, and broad in order to foster excitement and a thirst for knowledge.
We recognise that to be successful in school, your child needs support from both the home and school. We believe a strong partnership with you will positively impact your child's education. As partners, we share responsibility for your children's success and promise to do everything possible to fulfil that responsibility.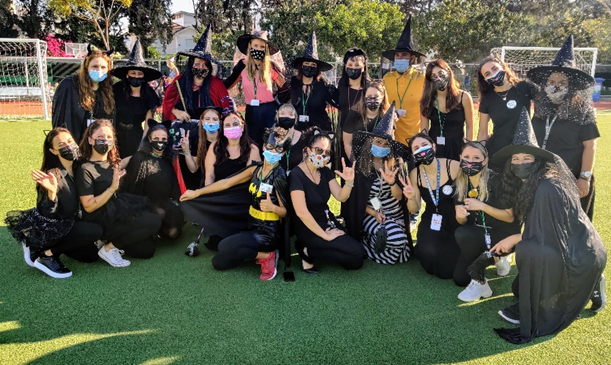 Our Early Years Team celebrating Halloween
Our qualified teachers, along with our experienced learning support assistants, are passionate about their craft. We understand that teaching is just as much about relationships as it is about knowledge. Our Early Years team love working at our school and sharing their passion for Early Years and learning in general with all the children who come through our doors.
Our school day
An example of the school day for Early Years is as follows:
| | |
| --- | --- |
| Time | Activities |
| 7:50-8:15am | Welcome, Morning Meeting, & Play to Learn |
| 8:25-9:00am | Circle Time or PE, Music, Library |
| 9:00-9:20am | Play to Learn & Small Group |
| 9:20-10:40am | Snack & Free Play Garden |
| 10:40-11:00am | Circle Time |
| 11:00-11:30am | Greek |
| 11:30-12:20pm | Play to Learn & Small Group |
| 12:20pm-1:00pm | Fruit & Garden or Music |
| 1:00-1:20pm | Afternoon Meeting & Home Time |